Whisky Galore
Running time: 98 mins
Release date: 19 May 2017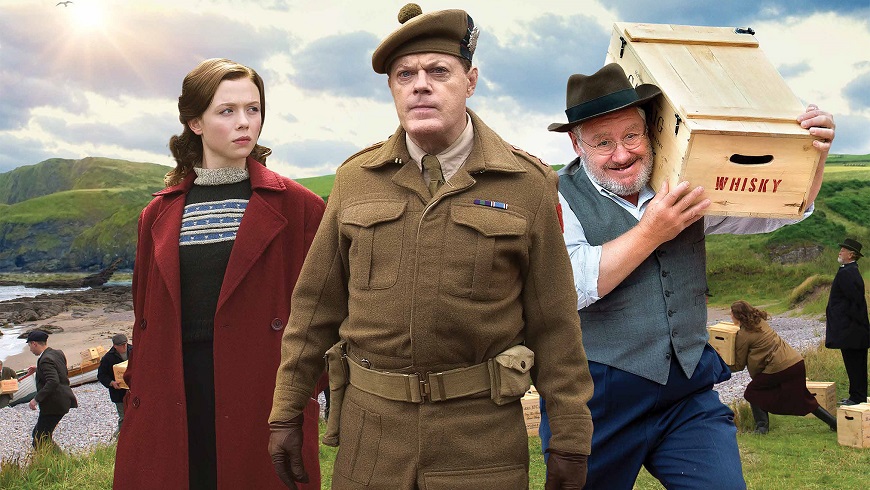 Synopsis
When a cargo-load of whisky washes up on the shores of a remote Scottish island, the villagers are determined to find a way to take advantage.
It's the 1941. Britain is reeling from WWII and wartime prohibition is taking a toll on the small Scottish island of Todday. But lack of sugar and butter isn't what's having the greatest impact – it's whisky they're missing.
When a cargo ship capsizes on the island's shores, the local villagers rush to their rowboats to offer to help. And when they learn what the ship is carrying, a freak accident turns into a gift from the gods. 264,000 bottles of whisky lie within their grasp.
But it's not a case of simply helping themselves to the bounty. English enforcers from the Home Office are determined to keep the villagers in check, preventing them from tasting a drop of the sacred substance. And the people of Todday are equally as determined to outsmart them.
This remake of the 1949 comedy captures the wit and charm of a community who unite during a time of struggle in the hope of having a little fun. Romance, cheeky hijinks and good old fashioned Scottish stubbornness come together in a film that's set to be a British classic.
Gillies MacKinnon (Hideous Kinky) directs Whisky Galore, starring Ellie Kendrick (Game of Thrones), James Cosmo (Trainspotting) and Kevin Guthrie (Dunkirk).
Director: Gillies MacKinnon
Writer: Peter McDougall
Stars: James Cosmo, Ellie Kendrick, Tim Pigott-Smith, Eddie Izzard
More about this film
Subtitled: No