The Father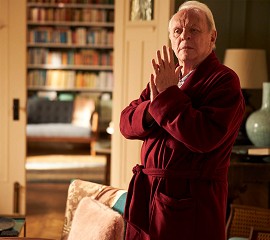 More Information
A man refuses all assistance from his daughter as he ages. As he tries to make sense of his changing circumstances, he begins to doubt his loved ones, his own mind and even the fabric of his reality.
Academy Award and BAFTA Award-winner THE FATHER is a tremendously powerful story about a man who begins to question the fabric of his reality. With powerhouse performances from Anthony Hopkins and Olivia Colman, Florian Zeller's uniquely made feature film debut is disorientating and intriguing, and must be seen to be believed.
Directed by
Florian Zeller
Written by
Florian Zeller
Christopher Hampton
Starring
Anthony Hopkins
Olivia Colman
Mark Gatiss
Imogen Poots
Rufus Sewell
Olivia Williams
Please be aware that you will be required to wear a face covering in the cinema. Once you are in the cinema screen, face coverings can be removed if you are eating or drinking. Groups should be no more than a total of 6 (incl children) unless a larger group represents one household or support bubble. This in accordance with government guidelines.
Release Date Friday, 11 June 2021
Running Time 97
Subtitles No
3D No
Book Now
Please select the time you would like to book from the options below:
Membership
Discounts on Cinema Tickets
Discounts on Food & Drink
Annual Free Cinema Tickets