The Electrical Life of Louis Wain (Socially Distanced Showing)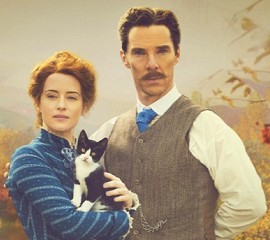 More Information
These showings will reintroduce the social distancing rules which were previously in place in order to provide a comfortable setting for those who are not comfortable attending a full auditorium.
When you book a ticket the seats immediately to your left and right, as well as immediately in front and behind, will be blocked off. 
The extraordinary true story of eccentric British artist Louis Wain (Benedict Cumberbatch), whose playful, sometimes even psychedelic pictures helped to transform the public's perception of cats forever. Moving from the late 1800s through to the 1930s, we follow the incredible adventures of this inspiring, unsung hero, as he seeks to unlock the "electrical" mysteries of the world and, in so doing, to better understand his own life and the profound love he shared with his wife Emily Richardson (Claire Foy). Directed by BAFTA award-winning Will Sharpe. Story by Simon Stephenson, screenplay by Simon Stephenson and Will Sharpe.
Non-socially distanced screenings are available here:
Release Date Wednesday, 29 December 2021
Running Time 111
Subtitles No
3D No
Book Now
Please select the time you would like to book from the options below:
Online booking not available
Membership
Discounts on Cinema Tickets
Discounts on Food & Drink
Annual Free Cinema Tickets